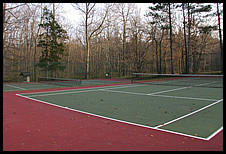 There are two outdoor tennis courts (lighted at night) near the entrance to McCormick's Creek State Park. These courts are open to the public and available on a first-come first-served basis. Bring your own tennis balls and rackets.
The tennis courts are located across from Westbrook Shelter. Right next to the tennis courts you'll find a large playfield, playground and picnic area.
Interested in other State Parks to enjoy tennis courts and more?
Check out this great info on Indiana State Parks from IndianaOutfitters.com.